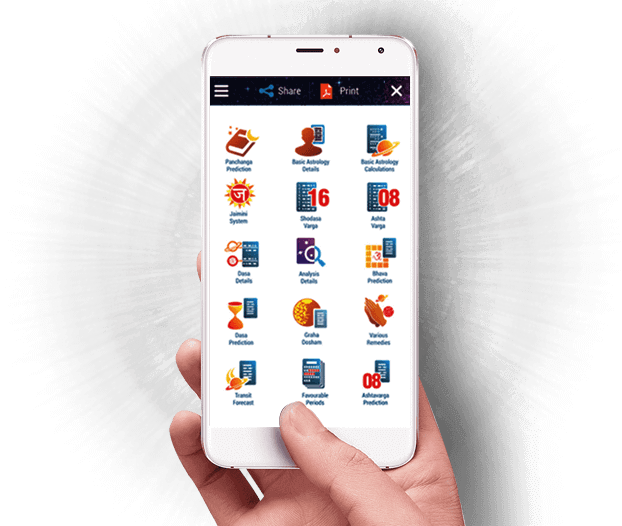 One
-Two
-Three..
Horoscope is Ready!
Quick & Accurate Horoscopes on your mobile
Over More than 100 million Trusted Customers
37 Years of excellance
Used in over 170 countries
Reports in 9 languages
The trusted brand astrologers
Our Premium Hororscope Software
What the users says about us
Praveen Venugopal
My friend reffered this app and I shocked when I saw the report it's truly amazing and satisfied with the prediction
Shikhar Kumar Dubey
Wonderfull aap......exact calculations regarding astrology. Very benefic. It is my pleasure to have this application. A person from Lifesign astrovision Mr. Shailesh is an awesome person and have a very nice behavior towards their customers.
Saurabh Deora
It's an amazing app... Very accurate and most comprehensive in the world. Because it displays all the minute things of astrology.
koteswar Rao
Astro Vision Life Sign ME standard is one of the world's best software. There are many new features which are accurate and user friendly. I appreciate your astrological software company for your great efforts.
Dileep Johari
My first experience with your app was good, but I could not get help from it for my complete information. I have sent a request for full version for complete information through your app but have not yet given any information from your side. Please provide information about the cost of full version.Please answer me as soon as possible.
Sankar Iyer
Excellent ...more easily one can predict Very useful to Astro beginners and ASTROLOGY consultation
Angel Hope Shakti Athena
Very nice app, I have also bought the lifetime full Astro Vision Software, one officer Miss Yamuna was wonderful, very professional yet very supportive, all I need to say is that wonderful experience, Software is very good, service is also excellent, thanks to the Yamuna, Thanks Astro Vision 😇🙏
Lets Dance Academy
Hi. I'm Hiruni from Sri Lanka, that app is fantastic. And we can get any help online at any time. Specifically, Achesh helped me a lot. He is very kind and helpful. Thank you.